FROM THE DELI DEPARTMENT
ASK US ABOUT OUR
GIFT BOX ASSORTMENTS
FROM THE MEAT DEPARTMENT
SIEMER'S HOT DEALS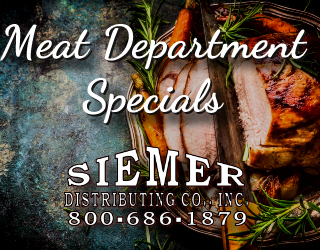 PEARL VALLEY SWISS CHEESE,
$3.69 LB.

FALTERS COOKED HAM, $3.99 LB.

POTATO OR MACARONI SALAD,
$8.79, 5 LB. TUB
BEEF RIBEYE STEAKS, $7.89 LB.

STORE-MADE BRATWURST, $3.09 LB.

BABYBACK PORK RIBS, $3.09 LB.

FRESH GROUD CHUCK,
$2.99 LB. 5 LB. BAG
*FRIDAY AND SATURDAY ONLY
KAHNS WIENERS, $1.69, 16 OZ. PKG.

1/4 LB. BEEF PATTIES, $31.00, 10 LB. BOX

BULK ITEMS @ WHOLESALE PRICES
We specialize in bulk items at wholesale prices.
Do you need help planning your next party?
Call us at 740-721-0110.
We accept Visa, MasterCard and food stamp card.


PARTY TRAYS
-

Planning a Party? Order a custom-made meat and cheese tray.
Stop by, call 740-342-3230 or for Additional information
FREEZER DEALS
-
YOU PICK YOUR DEAL
-

Any 5 for $50, Any 6 for $60, Any 7 for $70....Ect.