FROM THE DELI DEPARTMENT
ASK US ABOUT OUR
GIFT BOX ASSORTMENTS
FROM THE MEAT DEPARTMENT
SIEMER'S HOT DEALS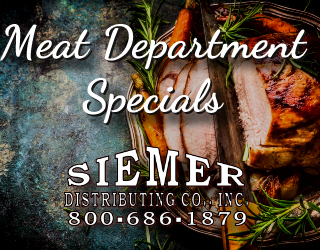 BUTTERBALL CAJUN TURKEY BREAST,
$5.99 LB.

KB BOLOGNA, $1.39 LB.

BLASERS PROVOLONE CHEESE,
$3.59 LB.

PIMENTO CHEESE SPREAD, $3.89 LB.
CENTER CUT PORK LOIN CHOPS,
$1.79 LB
MCCAIN BATTERED MUSHROOMS,
$6.99, 2 LB. BAG

SUGARDALE HOT DOGS, $1.09, 16 OZ. PKG

BREADED CHICKEN FILLETS,
$7.59, 5 LB. BAG

BULK ITEMS @ WHOLESALE PRICES
We specialize in bulk items at wholesale prices.
Do you need help planning your next party?
Call us at 740-721-0110.
We accept Visa, MasterCard and food stamp card.


PARTY TRAYS
-

Planning a Party? Order a custom-made meat and cheese tray.
Stop by, call 740-342-3230 or for Additional information
FREEZER DEALS
-
YOU PICK YOUR DEAL
-

Any 5 for $50, Any 6 for $60, Any 7 for $70....Ect.