FROM THE DELI DEPARTMENT
WALNUT CREEK OFF THE BONE HAM, $3.99 LB.

RITTBERGER BREAKFAST LOAF,
$5.49 LB.

PEARL VALLEY BABY LACEY SWISS CHEESE, $4.29 LB.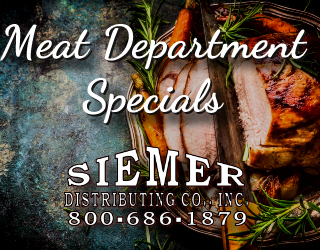 FROM THE MEAT DEPARTMENT
BEEF CHUCK ROAST, $3.99 LB.

BEEF STEW MEAT, $3.99 LB.

STORE-MADE PORK SAUSAGE,
$2.59 LB.

VERNON MANOR BONELESS ¼ HAMS, $2.19 LB.
SIEMER'S HOT DEALS
KB BACON, $19.99, 10 LB. BOX

ROOTS CHICKEN NOODLE SOUP,
$6.49, 2 LB. TUB