FROM THE DELI DEPARTMENT
SUGARDALE BOLOGNA, $2.99 LB.

BLUE GRASS DUTCH OR PICKLE LOAF, $4.89 LB.

WALNUT CREEK MOZZARELLA CHEESE, $4.09 LB.

AMISH MACARONI SALAD, $2.19 LB.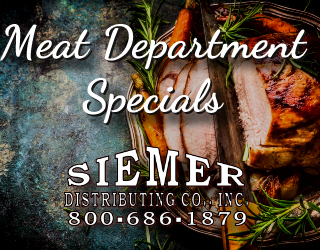 FROM THE MEAT DEPARTMENT
FRESH GROUND CHUCK, $3.49 LB.

SUGARDALE BACON, $4.39 1LB.
SIEMER'S HOT DEALS
TONY'S SCHOOL PIZZA, $6.59 10 CT.

ROOTS CONCENTRATED CHICKEN NOODLE SOUP, $6.89 2LB.

KAHNS BIG RED SMOKIES, $3.09 15oz.