FROM THE DELI DEPARTMENT
FARMLAND COOKED HAM, $2.29 LB.

PEARL VALLEY COLBY CHEESE,
$4.89 LB.

K.B. BOLOGNA, $1.79 LB.

AMISH MACARONI SALAD, $2.19 LB.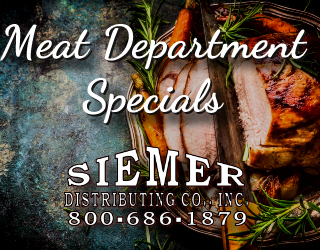 FROM THE MEAT DEPARTMENT
BEEF CHUCK ROAST, $4.09 LB.

PORK CUBED STEAKS, $2.19 LB.
SIEMER'S HOT DEALS
TONY'S SCHOOL PIZZA'S,
$6.79 10 COUNT

SUPERIOR E.Z CARVE SLICED HAM QUARTERS, $3.29 LB.

KAHN'S WIENERS, $2.59 16 oz. PKG.