FROM THE DELI DEPARTMENT
WALNUT CREEK HONEY HAM
$4.69 LB.

BLUE GRASS DUTCH LOAF
$6.09 LB.

PEARL VALLEY LACEY SWISS CHEESE
$4.59 LB.

HOFFMAN'S SUPER HOT PEPPER CHEESE
$4.99 LB.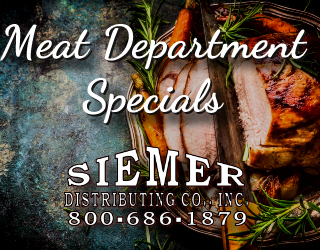 FROM THE MEAT DEPARTMENT
BEEF RUMP ROAST
$5.59 LB.

BEEF STEW MEAT
$5.79 LB.

BONELESS PORK LOIN ROAST
$3.09 LB.
SIEMER'S HOT DEALS
HADDOCK OR COD FISH TAILS
$27.00 5 LB. BOX

KAHN'S WIENERS
$2.89 16oz., PKG.