FROM THE DELI DEPARTMENT

BLUE GRASS BRAND DUTCH LOAF, $4.59 LB.

FIELD BRAND JUMBO BOLOGNA,
$1.79 LB.

PEARL VALLEY AMERICAN CHEESE, $3.59 LB.

STORE-MADE CHICKEN SALAD,
$4.99 LB.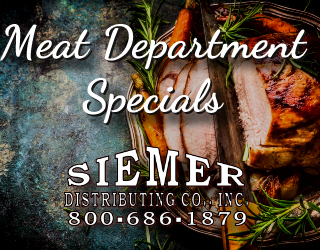 FROM THE MEAT DEPARTMENT
BEEF STRIP STEAK, $7.49 LB.

BONELESS PORK LOIN CHOPS,
$2.09 LB.
SIEMER'S HOT DEALS
TONY'S SCHOOL PIZZAS, $6.59 EACH

HONEY BATTERED CORN DOGS,
$4.89, 4 LB. BOX

SUGARDALE PEPPERONI,
$3.99, 1 LB. PKG.