FROM THE DELI DEPARTMENT
SMITHFIELD COOKED HAM
$3.59 LB.

PEARL VALLEY SWISS CHEESE
$5.59 LB.

KAHNS GARLIC BOLOGNA
$3.29 LB.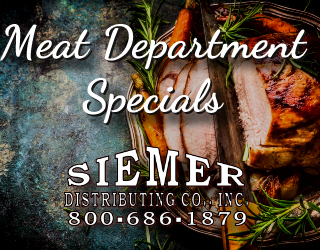 FROM THE MEAT DEPARTMENT
BEEF RIBEYE STEAK
$9.09 LB.

BEEF SIRLOIN TIP ROAST
$4.99 LB.

FRESH BULK SAUSAGE
$3.79 LB.
SIEMER'S HOT DEALS
BATTERED MOZZARELLA STICKS
$14.69, 3LB.

VERNON MANNOR BNLS HAM QUARTERS
$2.49 LB

SUGARDALE PEPPERONI
$2.59, 8oz. Pkg.