FROM THE DELI DEPARTMENT
SUPERIOR E.Z. CARVE HAM
$4.49 LB.

PEARL VALLEY COLBY CHEESE
$4.09 LB.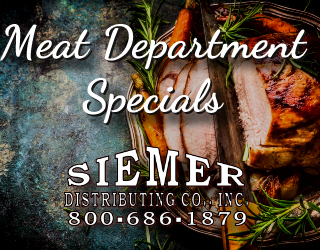 FROM THE MEAT DEPARTMENT
BEEF CHUCK ROAST
$5.49 LB.

FRESH GROUND CHUCK
$4.69 LB.

STORE-MADE CHICKEN SALAD
$6.29 LB.
SIEMER'S HOT DEALS
BROASTER CHICKEN TENDER
$25.00 5 LB. BAG

McCAIN BATTERED MUSHROOM
$8.49 2 LB. BAG

SUGARDALE BACON
$5.39 16 OZ. PKG.

GRADE A LARGE EGGS
$1.79 DOZ.