FROM THE DELI DEPARTMENT
RITTBERGER BREAKFAST OR
SPICED LOAF
$5.29 LB.

PEARL VALLEY AMERICAN CHEESE
$3.19 LB.

WALNUT CREEK COTTAGE CHEESE
$1.89 LB.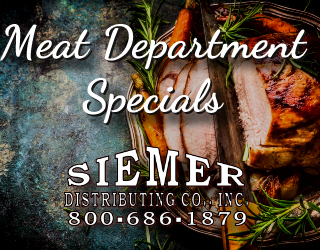 FROM THE MEAT DEPARTMENT
BEEF SIRLOIN TIP ROAST
$3.79 LB.

BONELESS BUTTERFLY PORK CHOPS
$2.19 LB.

SUPERIOR SLICED ¼ HAMS
$2.69 LB.
SIEMER'S HOT DEALS
MCCAIN BATTERED MUSHROOMS
$7.59, 2 LB. BAG

BROASTER CHICKEN TENDERS
$23.00, 5 LB. BAG

**NEW**
SUGARDALE UNCURED BEEF FRANKS (NO NITRATES)
$3.39, 14 OZ. PKG.